Packaging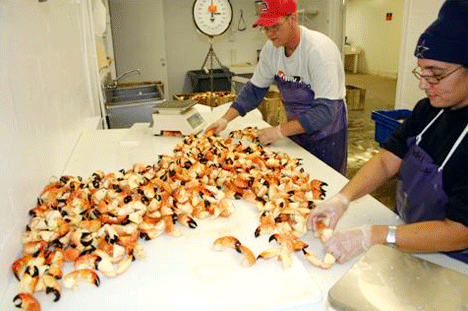 Charlie's Stone Crab Claws are harvested fresh daily by our own boats and cooked on site to perfection. We carefully package your order of cooked and chilled Stone Crab Claws utilizing Fed Ex approved packaging. Including reusable frozen gel packs in a reusable (CFC FREE) styrofoam cooler that fits snuggly into a cardboard shipping box, the morning of the ship date. All required packaging materials are FDA approved. Fed Ex expedites your Stone Crab Claw order to any physical address you desire to all fifty states, (yes!) plus the U.S. Territories; excluding Guam and Micronesia. That is why Charlie's Stone Crabs are the best choice for your Stone Crab Claw dinner of a lifetime.

Our Stone Crabs are harvested, prepared, and shipped from one location on the waters edge. Straight off of our boats they are cooked, chilled, graded, and shipped immediately. A turnkey process that provides you with the freshest, most delectable experience you could ask for.
From harvest to your door, overnight!!
---

Welcome to Charlies Stone Crabs!!