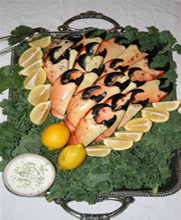 Guaranteed Fresh

At Charlie's Stone Crabs turn key operations, we have our own fleet of boats that head out to the Gulf of Mexico every morning to provide you the freshest possible stone crab claws available. Then the fleet returns the same day to our docks where the claws are cooked, flash chilled, graded, and packed for shipping by our own staff, at our facilities, all at one location.

We value every customer, so if for any reason, you are unsatisfied with our product or service we will do everything within our power to maintain your confidence. We want you to be a satisfied customer and you to know without a doubt that Charlies Stone Crabs will always be your best choice for the freshest Florida Stone Crab Claws.

Satisfaction Guaranteed.




Our Stone Crabs are harvested, prepared, and shipped from one location on the waters edge. Straight off of our boats they are cooked, chilled, graded, and shipped immediately. A turnkey process that provides you with the freshest, most delectable experience you could ask for.

From harvest to your door, overnight!!

---




Welcome to Charlies Stone Crabs!!