About Us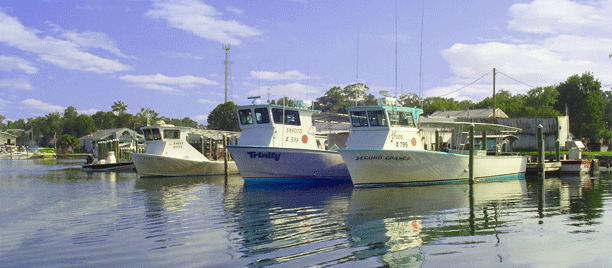 Charlie's Stone Crab Claws are harvested by our own fleet of boats, off loaded, processed and shipped from one location on the waters edge. Straight off our own boats, claws are cooked (with no additives or preservatives), chilled (never frozen), graded and shipped immediately via Fed Ex Express Overnight Delivery. A "turnkey" process that provides you with the freshest, most mouth watering experience you can ask for. From our boats to your table overnight!!
Our facilities are located in beautiful Crystal River, Florida, on the spring fed waters of King's Bay, which gently flow into the Gulf of Mexico.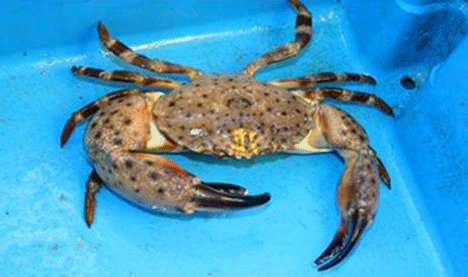 Florida Stone Crab: Note the larger claw on the left, this is the claw usually taken when "claws" are harvested. The claw taken must be a minimum of 2.75 inches or 6.985 centimeters. The harvest season of Stone Crab Claws is October 15th to May 15th. The trapping of Stone Crabs is licensed by the Florida Fish and Wildlife Conservation Commission and regulated by the Florida Department of Agriculture.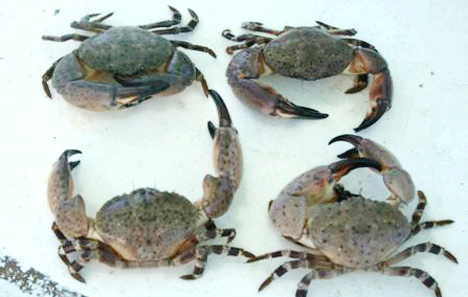 Florida Stone Crabs as seen before their claws are to be gauged for the minimum size requirement. A female with eggs does NOT have its claw removed, they are returned to the water fully intact, the others that do meet the requirements, are also returned to the water, their claws will grow back in approximately one to two years. Florida Stone Crabs, a true renewable resource of Florida's coastal waters. It is unlawful to keep or take whole Stone Crabs. Stone Crabs are captured alive in traps and returned alive to the water immediately after the legal size claws are removed.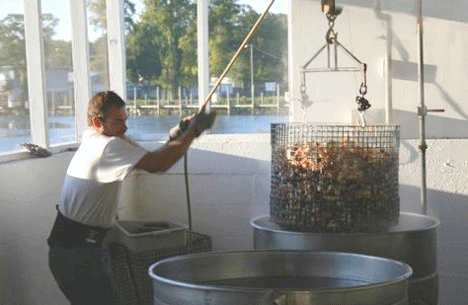 Stone Crab Claws being fully cooked after being off loaded from our fleet of boats, docked next to the processing plant, located on the spring fed waters edge of Crystal River. Our Stone Crab Claws are cooked in fresh water, no seasonings, additives, preservatives, or chemicals are utilized in the processing of our Stone Crab Claws. This process insures that Charlie's Stone Crab Claws have the freshest and most natural, sweet flavor you can purchase. The "cooking" of fresh Stone Crab Claws immediately after harvest prevents the delicate meat from sticking to the inside of the shell.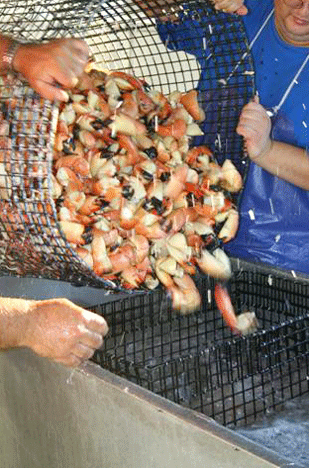 Charlie's Stone Crab Claws are "flash chilled" in ice water after being fully cooked, this process locks in the natural sweet flavor and keeps the freshly cooked delicate, rich claw meat moist and succulent. During the flash chilling process, "floaters" are removed. Floaters are claws that are void of meat that floats to the surface.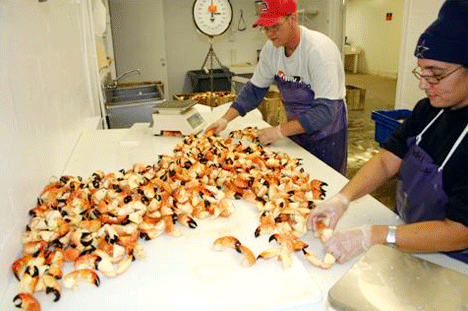 Following the flash chilling process, Charlie's Stone Crab Claws are graded for size/weight and quality(damaged claws are removed) . Medium size claws (6-7 claws per pound, weighing up to 3 oz. each), Large size claws (4-5 claws per pound, weighing up to 3-5 oz. each), Jumbo size claws ( 2-4 claws per pound, weighing up to 5-8 oz. each). Charlie's Fresh Stone Crab Claws are NEVER frozen, they are cooked, flash chilled, graded for size, then packed in ice prior to shipment. The fleet of boats leave port the early hours of morning and return during the early evening hours. Our turnkey operation allows us to provide you with the freshest possible Stone Crab Claws available, with minimum handling and transport, all managed and operated by our own family.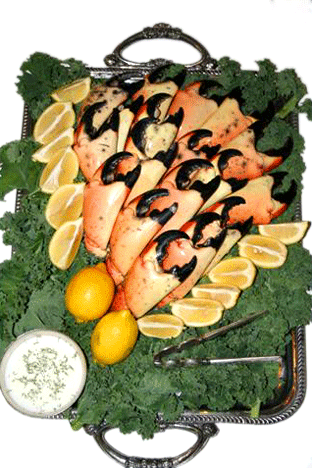 Charlie's Stone Crab Claws, Florida's Fresh and Healthy Choice!!
Nutritional Values for approximately 4 oz.(114 grams) of raw, edible portions.



Calories

Calories from Fat

Total Fat

Trans Fatty Acid

Saturated Fat

Cholesterol

Sodium

Total Carbohydrates

Protein

60

0

0

0

0

45mg

300mg

0

15g